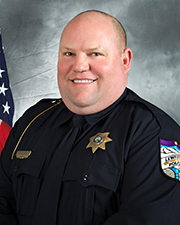 Idaho Medal of Honor Recipient
May 12, 2020
Officer Eric Olson
Lewiston Police Department
On April 17, 2019, Lewiston Police officers responded to a reported drive-by shooting. Officer Eric Olson located the suspect's vehicle in a residential area in Lewiston. The suspect shot multiple rounds at Ofc. Olson, who in turn, returned fire. The suspect fled in his vehicle. Ofc. Olson pursued the suspect through a residential area where the suspect shot multiple rounds at him. Ofc. Olson exited his vehicle and returned fire. From the two gunfire exchanges, Ofc. Olson's vehicle was hit three times, but was not incapacitated. The suspect fled in his vehicle again, pursued by Ofc. Olson and several other Lewiston officers through residential and commercial areas of the city. The pursuit and gunfire continued, until it finally ended with a standoff that led to the suspect's death. Throughout the incident, Ofc. Olson continued to pursue and re-engage the suspect in an effort to protect his community and fellow officers.
Through indomitable courage, complete disregard for his own safety, and profound concern for the safety of others, Ofc. Olson showed great determination and professionalism. Ofc. Olson's extraordinary heroism and intrepidity, with danger to his own life above and beyond the call of duty, are in the highest traditions of the Lewiston Police Department and Idaho law enforcement.
Read Officer Eric Olson's Official Medal of Honor Citation >>>