2021 Medal of Honor Recipients
In recognition for extraordinary acts of valor and heroism, the Idaho Law Enforcement, Firefighting and EMS Medal of Honor is awarded to law enforcement officers, firefighters and EMTs who have been distinguished by exceptionally meritorious conduct, assuring that the sacrifices of these professionals are recognized and their bravery honored by the state whose citizens they protect.
Due to the COVID-19 pandemic, the 2020 ceremonies scheduled to award 2020 recipients were postposed. The 2020 recipients will be awarded at a combined 2020-2021 ceremony which is scheduled on August 18, 2021, at 2:00 p.m. at the Lincoln Auditorium in the Idaho State Capitol at 700 W. Jefferson Street in Boise.
In February 2021, the Idaho Medal of Honor Commission met and selected five law enforcement officers and one conservation officer to receive the Idaho Medal of Honor. The 2021 recipients are:
Sergeant Justin Anderson
Post Falls Police Department
On the evening of March 3, 2020, Post Falls Police Department Sergeant Justin Anderson was conducting surveillance at the residence of a wanted individual who was potentially armed. Soon after Sgt. Anderson arrived in the area, a person exited the residence wearing a face covering. Read more >>>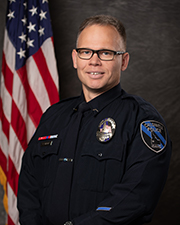 Officer Robert Heaton
Caldwell Police Department
On the evening of March 28, 2020, Caldwell Police Department Patrol Officer Robert Heaton responded to an address on Colorado Avenue following multiple 911 calls reporting gunshots. The suspect fired a gun at a woman as she was fleeing a residence. Read more >>>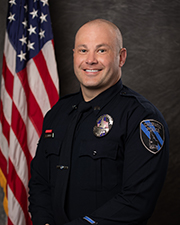 Officer Benjamin Heinrich
Caldwell Police Department
On the evening of March 28, 2020, Caldwell Police Department Corporal Benjamin Heinrich responded to an address on Colorado Avenue following multiple 911 calls reporting gunshots. The suspect fired a gun at a woman as she was fleeing a residence. Read more >>>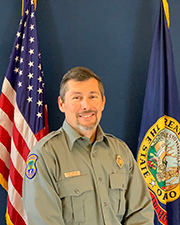 Conservation Officer Randy Martinez
Idaho Department of Fish and Game
On the afternoon of March 29, 2020, Idaho Fish and Game Senior Conservation Officer Randy Martinez was off-duty at a property along Highway 55 near New Meadows. Nearby, Adams County Sheriff's Deputies Nikki Sauerland and Randall Benavides were responding to a home after a call of a suspect violating a protection order. Read more >>>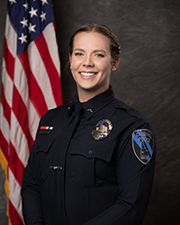 Officer Celina Mortensen
Caldwell Police Department
On the evening of March 28, 2020, Caldwell Police Department Patrol Officer Celina Mortensen responded to an address on Colorado Avenue following multiple 911 calls reporting gunshots. The suspect fired a gun at a woman as she was fleeing a residence. Read more >>>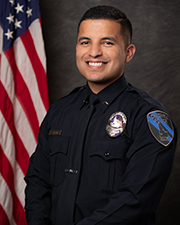 Officer Seferino Tapia
Caldwell Police Department
On the evening of March 28, 2020, Caldwell Police Department Patrol Officer Seferino Tapia responded to an address on Colorado Avenue following multiple 911 calls reporting gunshots. The suspect fired a gun at a woman as she was fleeing a residence. Read more >>>