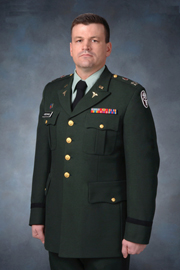 Idaho Medal of Honor Recipient
May 12, 2006
Captain Troy Greenwell
Oakley Fire Department
On November 6, 1995, Captain Troy Greenwell and Firefighter/EMT Joe Stringham, volunteers of the Oakley Fire Department, arrived at a fire, consuming the home of Carl M. Covington. The two were deployed to locate Mr. Covington, who was believed to be in the home. Captain Greenwell and Firefighter Stringham entered the back door of the home and began their search. They did not find Mr. Covington in the living room, where it was believed he would be, and flames and heat forced the men to exit the home. After a few minutes recovery, Captain Greenwell and Firefighter Stringham made a second attempt, searching other rooms. By now, the smoke and flames were pushing dangerously low from the ceiling. With air tank alarms ringing, the men retreated from the burning home. With fresh air tanks, the men crawled back in a third time. The door to a room in a corridor they had previously searched was closed, and the pair initially thought it was locked. When they pushed harder, however, they were able to open it a few inches. Reaching behind the door, Captain Greenwell felt Mr. Covington's leg, and they forced the door open far enough for Captain Greenwell to get inside. He was able to lift Mr. Covington and, with Firefighter Stringham's assistance, pull him from the house, saving his life. Mr. Covington survived this ordeal thanks to the bravery and persistence of these two men. Captain Greenwell, through indomitable courage and disregard for his own safety and profound regard for the life of another human being, averted the death of Mr. Covington. Captain Greenwell's extraordinary heroism and intrepidity, at the risk of his own life, above and beyond the call of duty, reflect great credit upon himself, the Oakley Fire Department, and Idaho Firefighters.
Read Captain Troy Greenwell's Official Medal of Honor Citation >>>