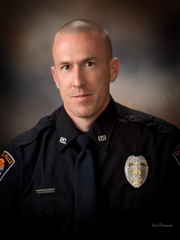 Idaho Medal of Honor Recipient
May 12, 2006
Officer Darin Moulton
Idaho Falls Police Department
On August 12, 2004, Idaho Falls Police Officer Darin Moulton responded to an "officers need assistance, emergency" call. Two officers had been brutally assaulted by James Rauch. One officer had been beaten incoherent, and the other had been shot. Officer Moulton had been informed of the fight and that a shot had been fired. Upon arrival, Officer Moulton was confronted with two officers down. Rauch was climbing off the wounded, bloodied officer, and the officer was screaming, "Shoot him!" Officer Moulton, unaware whether Rauch still had a firearm, did not hesitate, but rushed at Rauch. Officer Moulton punched Rauch in the face, knocking him to the ground. Officer Moulton then handcuffed Rauch and attended to the wounded officer until an ambulance arrived. Later, when asked why he had not shot James Rauch, Officer Moulton replied, "I just wanted to end it." Officer Moulton's extraordinary heroism and intrepidity at grave risk of his own life, above and beyond the call of duty, averted the loss of life of fellow officers. His actions are in the highest tradition of Idaho law enforcement and are a credit upon himself, the Idaho Falls Police Department, and Idaho law enforcement officers.
Read Officer Darin Moulton's Official Medal of Honor Citation >>>