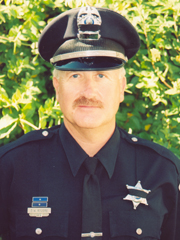 Idaho Medal of Honor Recipient
May 18, 2007
Corporal Dale W. Rogers
Boise Police Department
On September 20, 1997, Boise Police Officers stopped brothers Craig and Doug Brodrick for a traffic violation. Because the Brodricks were acting suspiciously, the officers decided to conduct a "high risk" stop. Corporal Dale Rogers was one of several officers who heard the call for assistance and arrived at the scene. The driver of the suspect vehicle was directed to exit the vehicle, lift his coat, and turn around. The driver told officers, "I don't think so" and "No." Corporal Rogers had his weapon aimed at the driver for cover. The driver was directed two more times to lift his coat and turn around. The driver gave the same response and began stepping backwards. As he stepped back, he brushed his coat aside, revealing a gun holster. The suspect reached for the holster, and Corporal Rogers responded, firing two rounds. The driver moved to the front of his vehicle and exchanged gunfire with officers. Corporal Rogers advanced and took a position directly behind the Brodricks' vehicle, where he could monitor the passenger side of the vehicle. The passenger exited the vehicle with a gun in his hand, firing rounds. As the passenger fired shots at other officers, Corporal Rogers fired his weapon at the passenger, killing him and ending the threat to his fellow officers. He then observed the driver running toward him and continuing to fire his weapon. Corporal Rogers fired three rounds at the driver, causing him to fall to the ground. The driver then lifted his head and attempted to reach for his gun again. Corporal Rogers fired one more round at the driver, killing him and ending the gun battle. During the exchange of gunfire between law enforcement officers and the suspects, two officers were struck by suspect fire; one was mortally wounded. Corporal Rogers courageously and calmly continued to engage both suspects until the threat ceased. His actions undoubtedly brought this deadly encounter to an end, thus preventing further injury or loss of life. Corporal Rogers' extraordinary heroism and intrepidity, at the risk of his own life, above and beyond the call of duty, reflect great credit upon himself, the Boise Police Department, and all Idaho law enforcement officers.
Read Corporal Dale W. Rogers's Official Medal of Honor Citation >>>