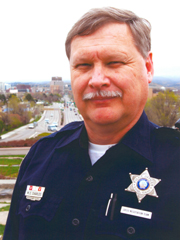 Idaho Medal of Honor Recipient
May 18, 2007
Officer Michael E. Charles
Boise Police Department
On November 14, 2002, Ross McAbee of Homedale led officers from several law enforcement agencies on a high speed pursuit, which began in western Canyon County and ended in downtown Boise. McAbee was driving a stolen pickup truck and was in possession of an SKS assault rifle. During this pursuit, McAbee swerved toward officers who were attempting to deploy stop sticks, fired shots at pursuing officers, and struck a police vehicle and two other vehicles occupied by innocent citizens. When the truck McAbee was driving came to rest near the intersection of Broadway and Myrtle, McAbee exited the vehicle, assault rifle in hand, and began firing at officers. Boise Police Officer Mike Charles drove his patrol vehicle close to McAbee in an attempt to block him in. Upon observing McAbee taking aim at officers, Officer Charles exited his vehicle and took cover. As gunfire was exchanged between McAbee and officers on the scene, Officer Charles moved in closer to the suspect and fired two rounds, causing him to fall to the ground. Without regard for his own safety, Officer Charles left his position of cover and fired three more rounds at McAbee, killing him and bringing this incident to an end without further loss of life or injury to his fellow officers or citizens. Officer Charles' extraordinary heroism and intrepidity, at the risk of his own life, above and beyond the call of duty, reflect great credit upon himself, the Boise Police Department, and all Idaho law enforcement officers.
Read Officer Michael E. Charles's Official Medal of Honor Citation >>>