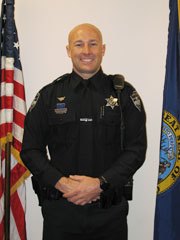 Idaho Medal of Honor Recipient
May 16, 2008
Officer Brek Orton
Boise Police Department
On August 7, 2007, Boise Police Officer Brek Orton responded to a call for a water rescue on the Boise River. Upon arrival, Officer Orton observed three Boise firefighters on a log in the river trying to cut a trapped woman's bathing suit free from the limbs of a downed tree. She had been completely submerged under eight to ten inches of water for approximately ten minutes. Officer Orton jumped into the swift current and made his way to the victim. Unable to touch bottom himself, Officer Orton held onto the log with one arm and pushed the victim upstream against the strong current. The firefighters were ready and able to immediately cut the bathing suit free from the branch. Officer Orton kept hold of the victim as they were swept downstream, where he was able to pull her toward the shore. Officer Orton's exceptionally brave and selfless actions allowed firefighters and EMS to begin resuscitation efforts, which resulted in the saving of Sari Starr's life. Officer Orton's extraordinary heroism and intrepidity, at the risk of his own life, above and beyond the call of duty, reflect great credit upon himself, the Boise Police Department, and all Idaho law enforcement officers.
Read Officer Brek Orton's Official Medal of Honor Citation >>>