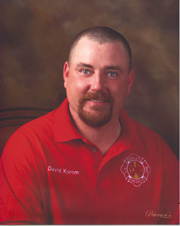 Idaho Medal of Honor Recipient
May 8, 2009
Firefighter David Earl Korom
Oakley Fire Department
On Sunday evening, January 18, 2009, Oakley Volunteer Firefighter David Korom was celebrating his wedding anniversary at home with his family when he heard a loud crash outside. Peering through the dense fog, he saw a mid-size 4-door pickup truck pinned under a large liquid-fill tanker truck. There were flames coming from under the pickup. As he approached the pickup, he could see 20-year-old Tenessa Papp, semi-conscious, in the driver's seat. The cab of the pickup was rapidly filling with smoke, and flames began to appear on the dashboard. Firefighter Korom found fellow Oakley Volunteer Firefighter David Roundy attempting to break the driver's side rear window with his tactical baton, without success. The smoke was increasing rapidly, and flames were coming through the firewall of the pickup. Unable to quickly find another tool, Firefighter Korom struck the corner of the window with his fist and managed to break it. Firefighter Roundy reached through the broken glass and unlocked the door behind the driver. He could hear Tenessa crying for help as he entered the vehicle and tried to lift her. Meanwhile, Firefighter Korom had found a pipe wrench and was able to break out the passenger side window. The additional outside air was now fueling the fire in the cab. Thick, black smoke made it almost impossible for the firefighters to see one another. Firefighter Korom cleared the glass from the window. Together, the two men lifted Tenessa up and out of the window and carried her to safety. Within seconds, the pickup cab flashed into a fiery inferno. Tenessa was transported to the hospital and released the next morning, having sustained only minor injuries. Firefighter David Korom, through indomitable courage and disregard for his own safety and profound regard for the life of another human being, averted the death of Tenessa Papp. Firefighter Korom's extraordinary heroism and intrepidity, at the risk of his own life, above and beyond the call of duty, reflect great credit upon himself, the Oakley Volunteer Fire Department, and all Idaho Firefighters.
Read Firefighter David Earl Korom's Official Medal of Honor Citation >>>