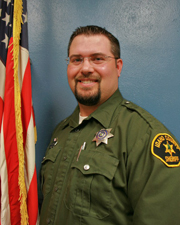 Idaho Medal of Honor Recipient
May 7, 2010
Deputy Carlos Martinez
Idaho County Sheriff's Office
On the evening of July 10, 2009, Deputy Carlos Martinez and Lieutenant Doug Ulmer responded to a report of a young girl swept into the Clearwater River near Kooskia. Deputy Martinez and Lieutenant Ulmer searched the river and were able to spot two-year-old Kayla Ladd nearly a half mile down river from where she was swept in. As they both prepared to enter the river, Deputy Martinez kept his boots on, while Lieutenant Ulmer removed his. With less drag, Lieutenant Ulmer swam approximately three-fourths of the way across the river, reaching Kayla first and swimming with her to the opposite river bank. Deputy Martinez met them at the bank and took Kayla from Lieutenant Ulmer's arms, out of the water. Fortunately, because he still had his boots on, Deputy Martinez was able to rapidly maneuver up the bank with Kayla, through the thick underbrush and timber, to the railroad tracks where he reached Idaho County Deputy Randy Long. Deputy Long then helped both Deputy Martinez and Kayla to an ambulance. At the hospital, it became apparent just how dire the situation had really been — Kayla's body temperature had gotten dangerously low to 88 degrees. With complete disregard for his own safety and extreme concern for a child, Deputy Martinez' selfless heroic actions, above and beyond the call of duty, reflect enormous credit upon himself, the Idaho County Sheriff's Office, and all Idaho law enforcement officers.
Read Deputy Carlos Martinez's Official Medal of Honor Citation >>>