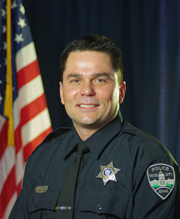 Idaho Medal of Honor Recipient
May 7, 2010
Officer Clay Christensen
Boise Police Department
On June 24, 1996, at approximately 9:00 pm, Boise Police Officers Clay Christensen and Scott Mulcahy responded to a call regarding a suspect selling marijuana at the Denny's restaurant in downtown Boise. When the officers approached, the suspect attempted to escape on his bicycle. Officer Mulcahy pushed the suspect off of his bicycle. The suspect then rolled to his back pointing a gun at the officers. An intense fight ensued as the officers tried to gain control of the gun. At one point, Officer Christensen laid down on the suspect's gun in an effort to flatten it against the pavement so it could not be fired. Knowing they could not get a hold on the gun, Officer Christensen pushed off the suspect and yelled for Mulcahy to take cover. A gun battle followed, with the suspect escaping on foot and Officer Mulcahy chasing him. As the suspect fled, he ran in front of a car and waved his gun at the driver. He forced the young woman from her car and used the car to get away. While chasing the suspect, Officer Mulcahy attempted to contact dispatch, but his radio battery was dead. Officer Christensen picked up Officer Mulcahy in a police car and then pursued the suspect. Officers Christensen and Mulcahy located the stolen car crashed at 13th Street. The suspect had fled on foot, then chased and shot at a private business's security guard. The suspect then turned his gun on the officers and fired. Officer Christensen returned fire, fatally wounding the suspect. With complete disregard for his own safety and extreme concern for the lives of the citizens, Officer Christensen refused to retreat under continued fire. Officer Christensen's extraordinary heroism and resolute courage, fortitude, and endurance at grave danger to his own life and that of the citizens of Boise, above and beyond the call of duty, are in the highest traditions of the Boise Police Department and Idaho law enforcement.
Read Officer Clay Christensen's Official Medal of Honor Citation >>>