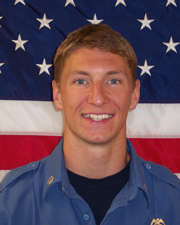 Idaho Medal of Honor Recipient
May 20, 2011
Firefighter Dylan Clark
Coeur d'Alene Fire Department
On June 19, 2010, at approximately 7:40 p.m., EMS 22 was dispatched to a vehicle that had crashed into a house. Firefighters Dylan Clark and Nathan Hyder were the first on scene, where they found a truck full into a garage, with the accelerator pushed to the floor and wheels still spinning. The patient was unconscious in the vehicle. Copious amounts of black smoke were present, as well as flying debris from the spinning tires. Visibility was almost zero. Firefighters Clark and Hyder immediately donned their self-contained breathing apparatus gear and entered the garage in order to reach the unconscious patient. The firefighters' lives were in imminent danger as the vehicle could have broken loose from the framing on the garage or violently shifted. Unable to gain access from the safer rear-end of the vehicle, Clark and Hyder broke out the passenger side window with a Halligan tool, unlocked the door and reached in and turned off the ignition. The patient was moved out of the vehicle and structure after great difficulty, thereby saving her life. Through indomitable courage, complete disregard for his own safety, and profound concern for the unconscious patient, Firefighter Clark averted a possible loss of life and injury to others. Firefighter Clark's extraordinary heroism, fortitude, and endurance, with grave danger to his own life above and beyond the call of duty, are in the highest traditions of the Coeur d'Alene Fire Department and Idaho fire service.
Read Firefighters Dylan Clark's Official Medal of Honor Citation >>>