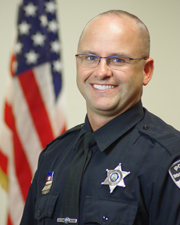 Idaho Medal of Honor Recipient
May 20, 2011
Officer Jason Rose
Boise Police Department
On August 21, 2010, at approximately 11:00 p.m., Boise Police Officers Jason Rose, Casey Hancuff and Adam Crist responded to an active shooter call. A frantic woman told Dispatch that someone was shooting at her door. The shooter then entered her home and desperate screams were heard. Officers Rose, Hancuff and Crist entered the dangerous homicidal shooting environment at great risk, where they encountered two people with gunshot wounds. The female victim was down with gunshot wounds to both legs. The femoral artery in her left leg had been splayed open by a bullet. She had sustained massive bleeding and had no pulse. With complete disregard for their own safety, as the shooter's whereabouts were still unknown, the officers refused to give up on her. Officer Crist recognized the need for a tourniquet. Officers Rose and Hancuff fashioned two sets of hobbles into tourniquets and applied them while elevating the woman's legs. Officer Crist held the victim's hands and encouraged her. Miraculously, the victim responded and regained consciousness, motioning with her hands and eventually talking. Officer Crist was able to gain valuable intelligence on the suspect while Officers Rose and Hancuff maintained the vital pressure on the tourniquets. Several times they fought for the woman as they watched the life flow out of her. Officers Rose and Hancuff held the tourniquets tight as they sped toward the hospital in the ambulance. Both paramedics and hospital staff stated that without the dedicated actions and quick thinking of these officers, the victim would have died at the scene from massive blood loss. Officer Rose's extraordinary heroism and resolute courage, fortitude, and endurance, with grave danger to his own life above and beyond the call of duty, are in the highest traditions of the Boise Police Department and Idaho law enforcement.
Read Officer Jason Rose's Official Medal of Honor Citation >>>