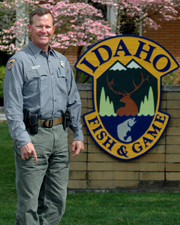 Idaho Medal of Honor Recipient
May 18, 2012
Senior Conservation Officer Paul Alexander
Idaho Fish & Game
On April 15, 2011, at approximately 5:15 p.m., while on patrol along the Black Canyon Reservoir, Idaho Fish and Game Senior Conservation Officer Paul Alexander saw a vehicle in the water. When he turned around to investigate, the vehicle was completely submerged and the driver of the vehicle was attempting to swim to shore. Officer Alexander encouraged the man to continue to swim, but the man responded that he couldn't make it and went underwater twice. Without hesitation, Officer Alexander dove into extremely cold 40 degree water and swam 30 yards to reach the man and pull him back to the surface after he had gone under a third time. Officer Alexander pulled the man to safety and undoubtedly saved the man's life.
Officer Alexander's extraordinary heroism and resolute courage, fortitude, and endurance, above and beyond the call of duty, are in the highest traditions of the Idaho Department of Fish and Game and Idaho law enforcement.
Read Officer Paul Alexander's Official Medal of Honor Citation >>>