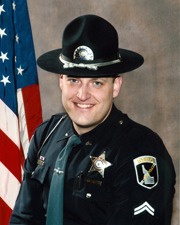 Idaho Medal of Honor Recipient
May 18, 2012
Corporal Allen Ashby
Idaho State Police
On August 28, 2011, at approximately 1:44 p.m., Idaho State Police Corporal Allen Ashby was one of the responders to an accident on Fernan Lake Road. A car had overturned into the lake and was completely submerged. Two young children were trapped in the vehicle. Corporal Ashby and ISP Specialist Gerald Stemm dove into the water to rescue the children. They made repeated attempts to open the doors of the submerged vehicle, but the deep water and limited visibility made their attempts unsuccessful.
Firefighters arrived as the vehicle started sinking deeper, with Corporal Ashby and Specialist Stemm standing on the vehicle trying to catch their breath for another rescue attempt. Finally, the firefighters used their Self Contained Breathing Apparatus and entered the water. Firefighters first recovered the 5-year-old boy and then the 1-year-old girl. Corporal Ashby assisted in bringing the children to shore to other emergency personnel. As a result, the 1-year-old girl survived this terrible tragedy.
Corporal Ashby's extraordinary heroism and resolute courage, fortitude, and endurance, with grave danger to his own life above and beyond the call of duty, are in the highest traditions of the Idaho State Police and Idaho law enforcement.
Read Corporal Allen Ashby's Official Medal of Honor Citation >>>