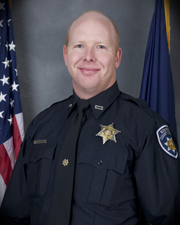 Idaho Medal of Honor Recipient
May 18, 2012
Deputy Chad Lenz
Bonneville County Sheriff's Office
On June 17, 2011, Bonneville County Sheriff's Deputy Chad Lenz was assisting the Idaho State Police in apprehending a fleeing suspect. The suspect fled from a traffic stop and barricaded himself inside his home. Deputies Lenz and Anthony Glenn, along with Officers Malin Reynolds and Bart Whiting of the Idaho Falls Police Department, entered the residence after breaching the door. Officer Reynolds chased the suspect into the kitchen where the suspect shot him at point-blank range. Deputies Lenz and Glenn, hearing the shots, ran to the kitchen where they saw Officer Reynolds lying on the floor. The suspect raised his pistol again, and the Deputies fired in defense of Officer Reynolds. The suspect then took his own life.
Deputies Lenz and Glenn immediately ran to Officer Reynolds to render aid, but, fortunately, the bullet struck Officer Reynolds' protective vest and he suffered no serious injuries.
Deputy Lenz's extraordinary heroism and resolute courage, fortitude, and endurance, with grave danger to his own life above and beyond the call of duty, are in the highest traditions of the Bonneville County Sheriff's Office and Idaho law enforcement.
Read Deputy Chad Lenz's Official Medal of Honor Citation >>>