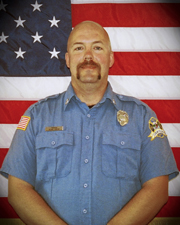 Idaho Medal of Honor Recipient
May 18, 2012
Firefighter Donald Porter
Coeur d'Alene Fire Department
On August 28, 2011, at approximately 1:44 p.m., Coeur d'Alene Fire Department Firefighter and Emergency Medical Technician Donald Porter responded to an accident on Fernan Lake Road. A car had overturned into the lake and was completely submerged. Two young children were trapped in the vehicle. Firefighter Porter and Coeur d'Alene Fire Department Captain Richard Halligan swam out to the vehicle and attempted to reach the children. They were unsuccessful due to poor visibility and the instability of the vehicle, which kept slipping deeper into the lake.
As a last resort, Firefighter Porter suggested use of the Self Contained Breathing Apparatus (which is not made for underwater use) which they put on before they entered the water again. Firefighter Porter dove beneath the surface, located the vehicle, opened a door, entered the vehicle, freed the 5-year-old boy and handed him to Captain Halligan. Firefighter Porter then reentered the vehicle and freed the 1-year-old girl, still strapped in her car seat, bringing her to the surface with Captain Halligan. The 1-year-old girl survived this terrible tragedy.
Firefighter Porter's extraordinary heroism and resolute courage, fortitude, and endurance, with grave danger to his own life above and beyond the call of duty, are in the highest traditions of the Coeur d'Alene Fire Department and Idaho fire service.
Read Firefighter Donald Porter's Official Medal of Honor Citation >>>