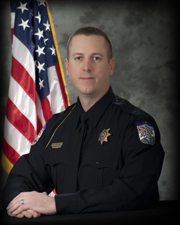 Idaho Medal of Honor Recipient
May 18, 2012
Officer Dustin Hibbard
Lewiston Police Department
On November 28, 2010, at approximately 2:00 a.m., Lewiston Police Officer Dustin Hibbard and Lewiston Reserve Police Officer Jason Ewing reported to a fire at an apartment complex. The officers, who were the first emergency responders on the scene, entered the back of the complex where they heard a woman screaming for help. Officers Hibbard and Ewing found the apartment and forced their way in, despite the overwhelming smoke and poor visibility. They found the woman in her back bedroom, trapped by the fire, and rescued her from the apartment.
Officer Hibbard's extraordinary heroism and resolute courage, fortitude, and endurance, with grave danger to his own life above and beyond the call of duty, are in the highest traditions of the Lewiston Police Department and Idaho law enforcement.
Read Officer Dustin Hibbard's Official Medal of Honor Citation >>>