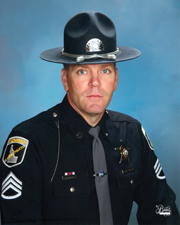 Idaho Medal of Honor Recipient
May 18, 2012
Sergeant John Kempf
Idaho State Police
On June 7, 2011, at approximately 10:30 p.m., Idaho State Police Sergeant John Kempf was the first emergency responder to a crash scene on I-84. He observed a tractor trailer on its side engulfed in flames.
A passerby who had also stopped to help (James Harkin) was checking the outside of the cab, which was also on fire. Sergeant Kempf and Mr. Harkin heard someone inside the cab screaming for help. Sergeant Kempf and Mr. Harkin climbed on top of the tractor to open the door. They found an injured man in the cab, reached in and together pulled him free. Approximately 20 seconds later, the tractor exploded and became fully engulfed in flames.
Sergeant Kempf's extraordinary heroism and resolute courage, fortitude, and endurance, with grave danger to his own life above and beyond the call of duty, are in the highest traditions of the Idaho State Police and Idaho law enforcement.
Read Sergeant John Kempf's Official Medal of Honor Citation >>>