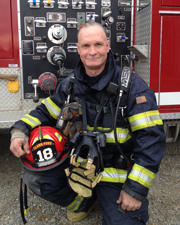 Idaho Medal of Honor Recipient
June 7, 2014
Captain Jeff Piazza
Clark Fork Fire Rescue Department
On November 4, 2010, at approximately 4:00 a.m., Captain Jeff Piazza, of the Clark Fork Fire Rescue Department, responded to a mobile home fire, with the possibility of persons trapped inside. At the scene, bystanders informed Captain Piazza that the occupants' two dogs were trapped in the crawl space under the burning mobile home. Due to the extended time the mobile home had been on fire, the floor joists were severely damaged, and it was likely the floor would collapse at any moment. Despite the danger, Captain Piazza forced entry through the fire and blinding smoke, and crawled almost the full length of the mobile home to reach the trapped and severely burned animals and pull them to safety only moments before the full collapse of the floor.
Through indomitable courage, complete disregard for his own safety, and profound concern for two beloved pets, Captain Piazza was able to rescue both dogs, and as a result, one of the dogs made a full recovery. Captain Piazza's extraordinary heroism, fortitude, and endurance, with danger to his own life above and beyond the call of duty, are in the highest traditions of the Clark Fork Fire Rescue Department and Idaho fire service.
Read Captain Jeff Piazza's Official Medal of Honor Citation >>>