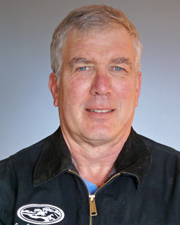 Idaho Medal of Honor Recipient
June 7, 2014
Captain Stuart Eigler
Sam Owen Fire District
On August 11, 2013, at approximately 12:30 am., Clark Fork Ambulance (housed at Sam Owen Fire Station 1) was called for a vehicle that had run off the road and into 24 feet of water in Lake Pend Oreille. Upon learning that a dive team would not be able to arrive for over 30 minutes, Captain Stuart Eigler took it upon himself to swim out 100 feet and dive down 10 feet (without any breathing apparatus) to search for the victim. Captain Eigler had to repeatedly dive down to find the vehicle, and it took him another two dives to locate the victim inside the car and pull him to the surface where waiting EMTs attempted to resuscitate him. When Captain Eigler saw a child seat in the car, he dove down several more times to ensure there wasn't a child still trapped inside the vehicle. Only after being satisfied that there were no other people in the car, did Captain Eigler return to shore.
Through indomitable courage, complete disregard for his own safety, and profound concern for the victim, Captain Eigler showed great determination and thoroughness. Captain Eigler's extraordinary heroism, fortitude, and endurance, with danger to his own life above and beyond the call of duty, are in the highest traditions of the Sam Owen Fire District and Idaho fire service.
Read Captain Stuart Eigler's Official Medal of Honor Citation >>>