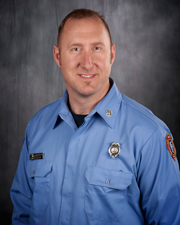 Idaho Medal of Honor Recipient
June 7, 2014
Firefighter John Ryan O'Hearn
Pocatello Fire Department
On June 22, 2005, at approximately 3:30 p.m., the Pocatello Fire Department was dispatched to a house fire on East Elm Street. There was smoke billowing from the house, and upon being informed that there was a wheelchair-bound man still trapped inside, Firefighter John Ryan O'Hearn singlehandedly removed the victim from the smoke and heat charged environment and threat of certain death.
Through indomitable courage, complete disregard for his own safety, and profound concern for the trapped man, Firefighter O'Hearn averted further injury and possible loss of life. Firefighter O'Hearn's extraordinary heroism, fortitude, and endurance, with danger to his own life above and beyond the call of duty, are in the highest traditions of the Pocatello Fire Department and Idaho fire service.
Read Firefighter John Ryan O'Hearn's Official Medal of Honor Citation >>>