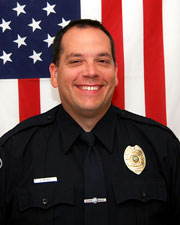 Idaho Medal of Honor Recipient
May 17, 2017
Patrol Sergeant Greg Moore
Coeur d'Alene Police Department

On May 5, 2015, at approximately 1:30 a.m. in Coeur d'Alene, Patrol Sergeant Greg Moore was patrolling in the area of Wilbur Avenue and Joanna Drive in response to reports of several car break-ins. Sgt. Moore stopped a suspicious male and radioed the man's information into dispatch, but made no further radio contact. A citizen heard gunshots and found Sgt. Moore wounded in the street. Sgt. Moore died several hours later.
Through indomitable courage, complete disregard for his own safety, and profound concern for the public, Sgt. Moore served his community honorably, protecting the quality of life of its citizens, as well as safeguarding his beloved fellow officers. Sgt. Moore's extraordinary heroism and intrepidity at the cost of his own life, above and beyond the call of duty, are in the highest traditions of the Coeur d'Alene Police Department and Idaho law enforcement.
Read Patrol Sergeant Moore's Official Medal of Honor Citation >>>