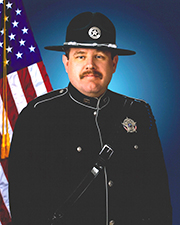 Idaho Medal of Honor Recipient
May 16, 2018
Corporal Charles Hoop
Twin Falls County Sheriff's Office
On December 13, 2017, at approximately 7:14 p.m. in Twin Falls, emergency service personnel responded to the Perrine Bridge. Dispatchers had received a report of a suicidal teenager preparing to jump off the bridge. Corporal Charles Hoop, of the Twin Falls County Sheriff's Office, arrived within three minutes of the call and found the teenager hanging onto the outside of the railing, very distraught. Cpl. Hoop, believing time was critical, jumped over the traffic barrier and grabbed the individual around the chest, just as the teen let go of the railing. Corporal Hoop was holding the full weight of the teenager dangling over the 486 foot drop, and was in danger himself of being pulled over the side of the bridge. Cpl. Hoop managed to pull the struggling teen back over the railing and placed him in protective custody, undoubtedly saving his life.
Through indomitable courage, complete disregard for his own safety and profound concern for the safety of others, Corporal Charles Hoop showed great determination and thoroughness. Cpl. Hoop's extraordinary heroism, fortitude and endurance, with danger to his own life above and beyond the call of duty, are in the highest traditions of the Twin Falls County Sheriff's Office and Idaho law enforcement.
Read Corporal Charles Hoop's Official Medal of Honor Citation >>>