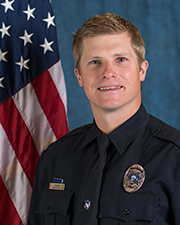 Idaho Medal of Honor Recipient
May 15, 2019
Officer Kyle Mikowski
Meridian Police Department
On the afternoon of July 1, 2018, Meridian Police Officer Kyle Mikowski began pursuit of a vehicle whose registered owner had a warrant out for his arrest. When Officer Mikowski was about to initiate a traffic stop, the driver quickly turned in an attempt to avoid the officer. The driver stopped in a residential neighborhood where the suspects, a male and female, fled on foot in different directions. Officer Mikowski pursued the male suspect down a walking path, ordered him to stop and threatened use of a Taser. The suspect did not heed the warnings and the officer employed his Taser. As the suspect fell to the ground, he drew a loaded handgun and fired at Officer Mikowski, hitting him once in each leg. Officer Mikowski immediately returned fire, resulting in the suspect's death. Though seriously wounded, Officer Mikowski rendered self-aid by applying a tourniquet. He then assisted responding personnel in finding his location.
Through indomitable courage, complete disregard for his own safety, and profound concern for the safety of others, Officer Mikowski showed great determination and professionalism. Officer Mikowski's extraordinary heroism and intrepidity, with danger to his own life above and beyond the call of duty, are in the highest traditions of the Meridian Police Department and Idaho law enforcement.
Officer Kyle Mikowski's Official Medal of Honor Citation >>>