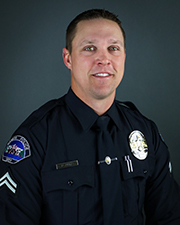 Idaho Medal of Honor Recipient
May 12, 2020
Corporal Eric Duke
Nampa Police Department
On the morning of March 27, 2018, Corporal Eric Duke and a fellow officer responded to a stabbing in progress at a residence in Nampa. Dispatch had informed the officers that the suspect had broken into the house and was stabbing and slashing the female residents with a large knife and a machete. When the officers arrived, an injured female victim covered in blood was in the front yard. Without hesitation, Cpl. Duke ran to the front door, kicked it in, and proceeded into the house. Following the sound of screaming, Cpl. Duke proceeded to the back of the house and opened a door to a bedroom where the suspect was standing over a female victim, slashing her with a knife in one hand and a machete in the other. Cpl. Duke immediately shot the suspect. He and his fellow officer then secured the suspect. The other officer then attended to the victim while Cpl. Duke proceeded to secure the rest of the house. A female victim and an infant child where found in another room. The female victim had a severe leg wound that was bleeding profusely. Cpl. Duke applied a tourniquet to her leg to stop the bleeding, an act that was later confirmed to be a life-saving application. He continued to give direction and provide information to assisting officers and medical responders who arrived at the scene. Two of the victims survived their injuries.
Through indomitable courage, complete disregard for his own safety, and profound concern for the safety of others, Cpl. Eric Duke showed great determination and bravery. Cpl. Duke's extraordinary heroism and intrepidity, with danger to his own life above and beyond the call of duty, are in the highest traditions of the Nampa Police Department and Idaho law enforcement.
Read Corporal Eric Duke's Official Medal of Honor Citation >>>