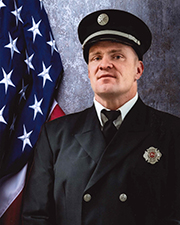 Idaho Medal of Honor Recipient
August 28, 2020
Firefighter Jonathan Metz
McCall Fire Protection District
On the afternoon of March 17, 2019, Firefighter/EMT Jonathan Metz and Firefighter/Paramedic Jason Beck were running errands for their station when an explosion occurred across town. The firefighters self-dispatched in their ambulance and were the first to arrive at the residence, which was engulfed in 20-foot flames. Bystanders informed them that a victim was trapped inside. Firefighters Metz and Beck began a rescue operation after donning their protective gear and arming themselves with only a 2½ gallon water extinguisher from their ambulance. Firefighters Metz and Beck crawled through a space beneath the flames and proceeded 15-feet into the home before they were forced to turn around because of a collapsed floor and roof. To gain entry, Firefighter Beck climbed an 8-foot high snow wall and Firefighter Metz ran through flames. They discovered the female victim 15-feet below them in the basement, surrounded by flames, and buried in debris up to her neck. Firefighters Metz and Beck made their way down a wall, through flames, to the victim, where they were engulfed by intense heat. They used their bodies to shield the victim while they dug her out of the debris. Amidst perils and another explosion, they were able to extricate the victim from the burning home. The victim survived her injuries.
Through indomitable courage, complete disregard for his own safety, and profound concern for the safety of others, Firefighter Jonathan Metz showed great determination and bravery. Firefighter Metz's extraordinary heroism and intrepidity, with danger to his own life above and beyond the call of duty, are in the highest traditions of the McCall Fire Protection District and Idaho fire service.