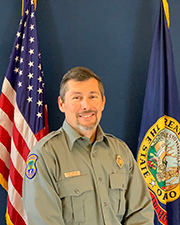 Idaho Medal of Honor Recipient
August 18, 2021
Conservation Officer Randy Martinez
Idaho Department of Fish and Game
On the afternoon of March 29, 2020, Idaho Fish and Game Senior Conservation Officer Randy Martinez was off-duty at a property along Highway 55 near New Meadows. Nearby, Adams County Sheriff's Deputies Nikki Sauerland and Randall Benavides were responding to a home after a call of a suspect violating a protection order. The suspect opened fire on the deputies upon their arrival, pinning them behind their patrol vehicles. Officer Martinez heard the shots and retrieved his personal handgun from his vehicle and ran toward the deputies to assist. He took cover in a nearby ditch and was able to communicate important information about the suspect to the deputies. When Officer Martinez saw the suspect advancing toward the deputies, he fired multiple rounds, causing the suspect to flee the scene. Officer Martinez pursued the suspect in an attempt to keep him in sight. When additional law enforcement arrived on the scene, Martinez further assisted by providing the description of the suspect and his direction of travel. He continued to assist by helping evacuate a neighbor and securing the perimeter.
Through indomitable courage, complete disregard for his own safety, and profound concern for the safety of others, Officer Randy Martinez showed great determination and bravery. Officer Martinez's extraordinary heroism and intrepidity, with danger to his own life above and beyond the call of duty, are in the highest traditions of the Idaho Department of Fish and Game and Idaho law enforcement.