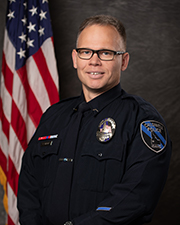 Idaho Medal of Honor Recipient
August 18, 2021
Officer Robert Heaton
Caldwell Police Department
On the evening of March 28, 2020, Caldwell Police Department Patrol Officer Robert Heaton responded to an address on Colorado Avenue following multiple 911 calls reporting gunshots. The suspect fired a gun at a woman as she was fleeing a residence. Later, the suspect forced his way into a nearby house and held those inside at gunpoint before firing a shot at a passing vehicle. A woman inside the vehicle suffered minor injuries. When officers arrived, the suspect began shooting at them with a shotgun, handgun, and a high powered rifle. The officers returned fire. Upon his arrival, Officer Heaton helped take control of the situation, leaning on both his military and law enforcement background, tactically moving and exchanging multiple shots with the suspect. The suspect was eventually wounded and later succumbed to his injuries.
Through indomitable courage, complete disregard for his own safety, and profound concern for the safety of others, Officer Robert Heaton showed great determination and bravery. Officer Heaton's extraordinary heroism and intrepidity, with danger to his own life above and beyond the call of duty, are in the highest traditions of the Caldwell Police Department and Idaho law enforcement.